The Impact of Social Media on B2C eCommerce: Opportunities and Challenges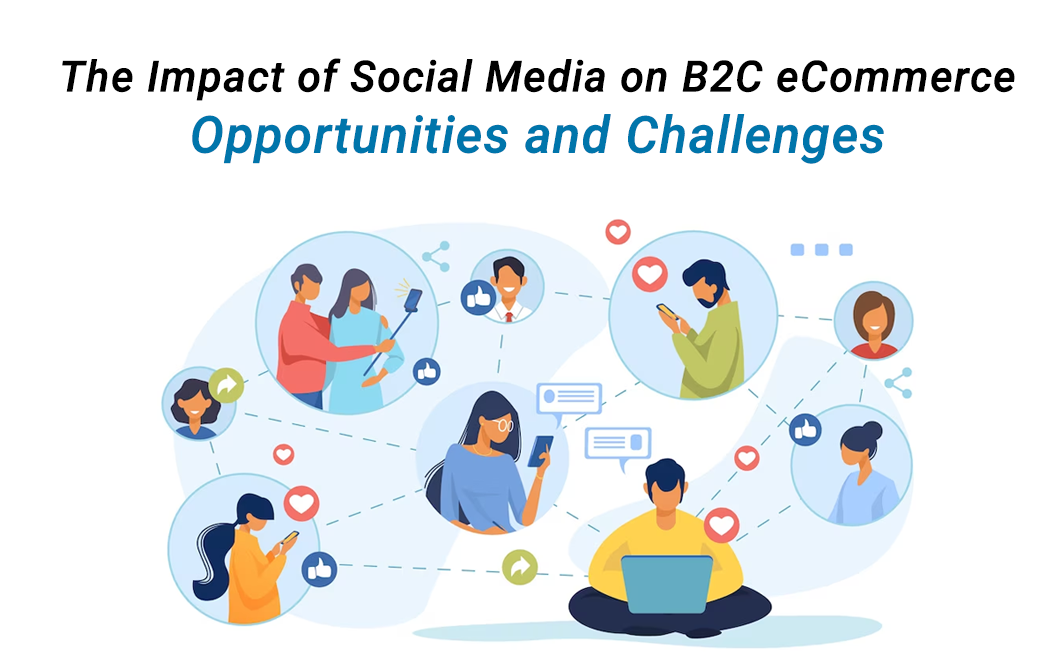 Social media has revolutionized the way businesses engage with their customers, especially in the realm of B2C eCommerce. With millions of users active on various platforms, social media offers both opportunities and challenges for businesses looking to thrive in the digital marketplace. In this blog post, we'll explore how social media impacts B2C eCommerce, highlighting the potential benefits and obstacles businesses may encounter along the way.
Opportunities:
Enhanced Customer Engagement:
Social media platforms provide businesses with a direct line of communication to their customers. By actively engaging with their audience through posts, comments, and messages, companies can build stronger relationships, gather feedback, and address customer concerns promptly.
Increased Brand Visibility:
Social media enables businesses to expand their reach beyond their website. Posting engaging content, sharing promotions, and leveraging trending topics can help increase brand awareness and attract new customers.
Targeted Advertising:
Social media platforms offer sophisticated advertising tools that allow businesses to precisely target their desired audience based on demographics, interests, and online behavior. This can lead to higher conversion rates and a more efficient use of marketing budgets.
User-Generated Content (UGC):
Encouraging customers to share their experiences with your products or services on social media can create a valuable source of UGC. This content not only serves as authentic testimonials but also extends your brand's reach through shares and mentions.
Real-time Insights:
Social media analytics tools provide businesses with valuable insights into consumer behavior. By monitoring metrics like engagement rates, click-through rates, and audience demographics, companies can adapt their strategies to better align with customer preferences.
Challenges:
Intense Competition:
The sheer volume of businesses on social media means that competition is fierce. Standing out amidst the noise requires creativity and a well-defined brand identity.
Algorithm Changes:
Social media algorithms are constantly evolving, which can impact the visibility of your content. Staying up-to-date with platform changes and adjusting your strategy accordingly is crucial.
Negative Feedback Amplification:
Negative customer experiences can quickly go viral on social media, potentially causing significant damage to your brand's reputation. Managing and mitigating negative feedback is essential.
Resource Intensiveness:
Maintaining an active and effective social media presence can be resource-intensive. It requires consistent content creation, community management, and advertising spend.
Privacy and Data Concerns:
Increasing concerns about data privacy and the ethical use of customer data have led to stricter regulations. Businesses must navigate these regulations carefully to avoid legal issues.
Conclusion:
The impact of social media on B2C eCommerce is profound, offering numerous opportunities for businesses to connect with their audience, increase brand visibility, and drive sales. However, it also presents challenges that require careful navigation. To succeed in the digital age, businesses must develop a robust social media strategy that capitalizes on the opportunities while addressing the challenges effectively. By doing so, they can harness the power of social media to propel their B2C eCommerce endeavors to new heights.