Best B2B eCommerce Solutions
Provider For Manufacturing & Distribution Business
B2B digital commerce transformation solutions all at one place
Ariya InfoTech: Your trusted partner for B2B eCommerce transformation, providing adaptable solutions for seamless digital growth. Experience the power of innovation and achieve unparalleled success with our tailored B2B-oriented eCommerce solutions.
B2B Digital Commerce
At Ariya InfoTech, we specialize in creating the most adaptable B2B eCommerce platform tailored to your business. Our solutions are customized and integrated to cater to all your B2B, D2C, and Omnichannel commerce needs. Whether you choose to decouple front and back ends or integrate microservices components, our experienced team is dedicated to providing the assistance you require. Trust Ariya Infotech for a seamless and flexible eCommerce solution that empowers your business to thrive in the digital landscape.
B2B Marketplace Solutions
With Ariya InfoTech's multi-vendor B2B marketplace solutions, you can effortlessly connect B2B buyers and sellers, gaining a significant competitive advantage for your wholesale firm. Our user-friendly tools enable seamless management of products, orders, payouts, and commissions for multiple vendors. Maximize the potential of your existing dealer network by empowering them to sell on your B2B platform, fostering collaboration and expanding your reach in the market. Trust Ariya Infotech to provide you with the perfect solution to unlock the full potential of your B2B business.
Why do you need B2B commerce digitization? We'll tell you, because
we understand you!
In today's fast-paced business landscape, manufacturers, distributors, and B2B enterprises face mounting pressure to implement solutions that align with modern expectations. At Ariya InfoTech, we understand your needs and serve as the ideal partner to provide you with a dependable B2B platform. Our solution not only automates your business operations effectively today but also ensures seamless scalability for future growth. Trust us to deliver a reliable and future-proof B2B platform that empowers your business to thrive in the ever-evolving market.
Wants
Digitize all business processes, including efficient catalogue sharing with dealers and sub-dealers.
Enable 24/7 flexibility for customers to place orders conveniently.
Automate order processing to streamline operations and increase efficiency.
Empower clients, vendors, and employees with the latest advancements in B2B technology.
Implement a robust and bug-free B2B system to optimize efficiency and drive business growth.
Aspirations
Eliminate manual processes and run the company on auto-mode for increased efficiency.
Transform the organization into a "Paperless" environment, reducing reliance on physical documents.
Drive revenue growth and scale up the brand through strategic initiatives.
Improve data quality and management to gain valuable insights for informed decision-making.
Streamline workforce management processes to reduce costs and optimize operational efficiency.
Frustrations
Address the dependency on manual order processing systems by implementing automated solutions for streamlined and error-free order management.
Minimize human errors in data and business process management by introducing efficient digital tools and systems.
Centralize and organize scattered data through effective data management solutions, ensuring easy accessibility and data integrity.
Establish accountability within the sales team by implementing robust data management systems, enabling better tracking and analysis of sales activities.
Reduce operational costs by embracing digitization, automating processes, and optimizing resource utilization.
Fears
Stay competitive and adapt to changing market dynamics through strategic initiatives
Improve profit margins by effectively managing costs and exploring opportunities for cost optimization.
Attract and retain customers and vendors through targeted marketing efforts, personalized experiences, and strong relationship management.
Ensure workforce productivity by providing training and resources to adapt to technological advancements.
Facilitate business scalability through efficient processes, expansion strategies, and continuous innovation.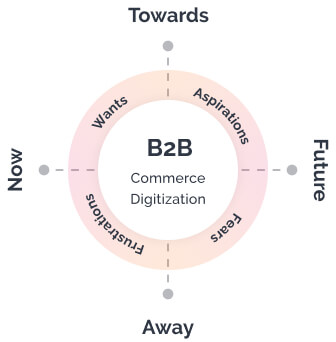 B2B portal development for a digital first world
Ariya InfoTech creates tailored B2B portals that foster partnerships, connect vendors and clients, and offer efficient self-service. Trust us for a robust solution that optimizes collaboration, streamlines processes, and enhances customer satisfaction.