Best B2B eCommerce Solutions
Provider For Manufacturing & Distribution Business
B2B digital commerce transformation solutions all at one place
Incredibly adaptable and fully composable B2B-first eCommerce solutions are offered by Magneto IT Solutions for the digital transformation of your B2B business.
B2B Digital Commerce
We can create the most adaptable B2B ecommerce platform for you which is customized & integrated by us for all B2B, D2C, and Omnichannel commerce needs. You can decouple front and back ends or integrate microservices components in systems of your choice with the assistance of Magneto IT Solutions.
B2B Marketplace Solutions
By using our multi vendor B2B marketplace solutions, you can connect your B2B buyers and sellers and give your wholesale firm a competitive edge.Utilize simple tools to manage the products, orders, payouts, and commissions of numerous vendors. Use, involve, and make the most of your current dealer network by having them sell on your B2B platform.
Why do you need B2B commerce digitization? We'll tell you, because
we understand you!
As someone who is into Manufacturing, Distribution or any business that involves B2B selling and management, you're under pressure to implement solutions that meet expectations of the modern times.For that, you will need a partner like us who understands your expectations and provides you with a reliable B2B platform that automates your business today and effortlessly scales it for the future.
Wants
Digitize all business processes (Like catalogue sharing with all dealers and sub dealers)
24/7 flexibility to customers for placing orders
Automate order processing
Clients, vendors & employees to be adept with latest B2B technology
Robust, bug-free B2B system to improve efficiency
Aspirations
Run the company on auto-mode by eliminating all manual processes
Make the company a "Paperless" organization
Grow revenue and scale up the brand
Improve data quality and management
Reduce costs by streamlining the workforce management
Frustrations
Dependency on manual order processing systems
Human errors in managing data and business processes
Unorganised and scattered data
No accountability of sales team due lack of proper data management systems
High operational costs due lack of digitization
Fears
Losing out to competitors overtime
Reduced profits margins due to increase in costs
Not able to attract new customers & vendors or sustain the existing ones
Unproductive workforce due to advancements in technology
Unable to scale up the business and ultimately shutting down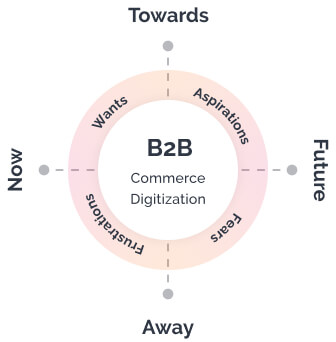 B2B portal development for a digital first world
We develop bespoke B2B portals that promote business partnerships between partners, assist in connecting
vendors and clients, enable efficient self-service, and give users full assistance.